2018年J.D. Power新车质量报告出炉:捷尼赛斯,起亚,现代包揽前三
J.D. Power 20日发布了2018年美国新车质量报告(IQS),其中现代汽车高端品牌捷尼赛
斯,起亚汽车和现代汽车占据前三名。将德国保时捷及日本丰田等品牌甩在身后。
21日美国商业杂志福布斯发布了名为"Man Bites Dog"(意为发生了不可思议的事情)的
文章,福布斯在文中表示"在20年前韩系车还是对于买不起日系车,美系车,欧洲车的人
才会选择的车""现在至少在品质和造型方面值得宝马和丰田学习",对韩系车给出了极高评
价。
J.D. Power新车质量评价是以过去的2~3月在美国市场购买2018款车型的75,700多名消
费者为对象,以每百辆车问题数(PP100)作为指标进行评价,PP100分数越低,表明问
题数越少,质量也越好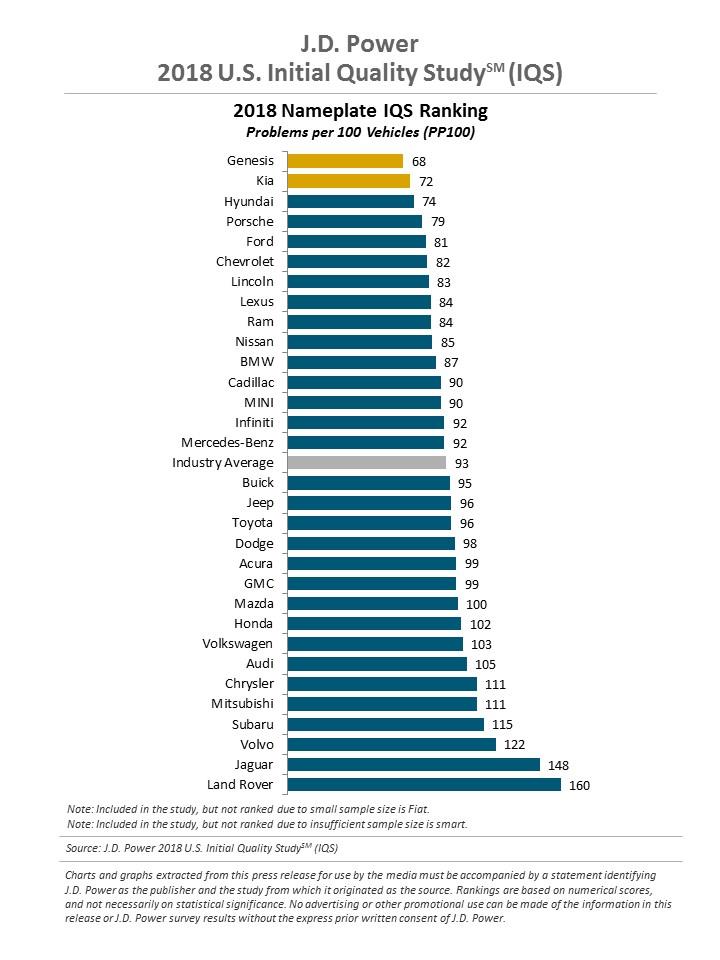 在品牌排名上,捷尼赛斯,起亚汽车,现代汽车包揽了前三位。第四,第五位分别是保时捷
和福特,6~10位是雪佛兰,林肯,雷克萨斯,Ram(菲亚特克莱斯勒旗下卡车品牌)及日
产。
前十位中韩系车的占据三个席位,日系车占两个席位(雷克萨斯,日产),德系车占一个席
位,其余为美系车及其他。11~20位分别是宝马,凯迪拉克,MINI,英菲尼迪,梅赛德斯
奔驰,别克,JEEP,丰田,道奇,讴歌。
评价虽是基于问题率进行,但也包含衡量高级驾驶辅助系统(ADAS),巡航控制,停车辅助
系统(PBS),及盲区监测等性能的项目。
按车级别来看,现代途胜在小型SUV(美国基准)级别中荣登榜首,起亚索兰托在中型SUV
(美国基准)级别中也占据首位。
本次调查中由于特斯拉,玛莎拉蒂,宾利,法拉利,劳斯莱斯等量产车型的稀缺性不参与评
价。
-----------------------------------------------------------------------------------------------
以下是福布斯文章链接
https://www.forbes.com/sites/davidkiley5/2018/06/20/man-bites-dog-korean-brands-genesis-kia-and-hyundai-top-quality-rankings/#d27a7be23e54



Korean Auto Brands Surpass Japanese And Germans In Quality Ranking
Two decades ago, Korean brands Hyundai and Kia were considered little more than
compromise purchases for people who didn't have the cash or credit score to afford a car from
Japan, Detroit or Europe. Today, according to vehicle quality tracker J.D. Power, Toyota and
BMW and other stalwarts of quality and reputation are chasing Hyundai, Kia and Hyundai
luxury brand Genesis for the fewest glitches and design flaws.
The three Korean brands, which are all controlled by the Hyundai Motor Group, have the
fewest problems per 100 new vehicles, according to to J.D. Power's 2018 initial quality
ranking.
The Genesis luxury brand, launched by Hyundai in 2016 after previously selling a Genesis
brand sedan in Hyundai showrooms, topped the list with 68 problems per 100 cars. Genesis–
a lineup up of two cars with a third on the way– beat the previous top-ranked luxury brands
Porsche (with 79 problems per 100) and Lexus. This honor continues a string of third-party
endorsements for the two-year-old Hyundai luxury spinoff. Earlier this, Genesis year also
led Consumer Reports' list of top-ten brand rankings.
Power's Initial Quality Study (IQS) measures complaints from owners in the first three
months of ownership. Power has found over the decades that brands and models that score
high on its IQS ranking also end up ranking high on its Vehicle Dependability Study (VDS),
which measures quality/customer complaints over three years of ownership. Hyundai, for
example, recently scored third in Power's VDS.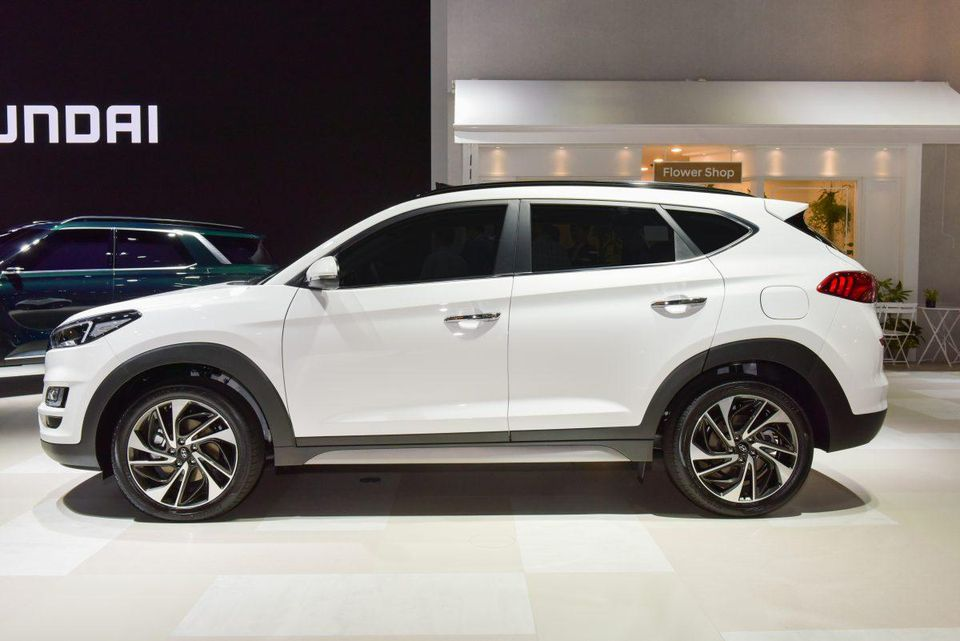 Hyundai Tucson is top ranked small SUV
Hyundai scored 14 fewer problems per 100 vehicles this year versus 2017, moving from sixth
last year to third this year.
Besides build quality, Hyundai and Kia (which share a technical development center in Ann
Arbor, Michigan), have succeeded on developing one of the best telematics systems in the
industry. Hyundai's BlueLink and Kia's UVO systems have proved easy to use, and other
companies have lost ground in this study because their connected-car smartphone interface
systems have trailed leaders like Hyundai and Kia.