现代汽车集团与奥迪签订多年期专利交叉许可协议 共同发展氢燃料电池汽车技术
现代汽车集团和奥迪股份公司签订了氢燃料电池电动汽车的专利交叉许可协议。
2018年6月20日——现代汽车集团(现代)和奥迪股份公司(奥迪)宣布,双方就氢燃料电池电动汽车(FCEV)组件和技术,签订了多年期专利交叉许可协议。作为世界第五大汽车制造集团,现代汽车集团和德国豪华汽车品牌将共同努力发展FCEV,引领汽车工业的可持续发展。
交叉许可协议由现代汽车和奥迪签订,受益方同时包括双方分支机构,包括但不限于起亚汽车公司和奥迪母公司大众汽车公司。现代汽车和奥迪,以及他们的附属公司,将在之后的几年内公平地分享专利许可, 包含现有专利以及未来几年内将要申请的专利。目前,本协议的期限还没有披露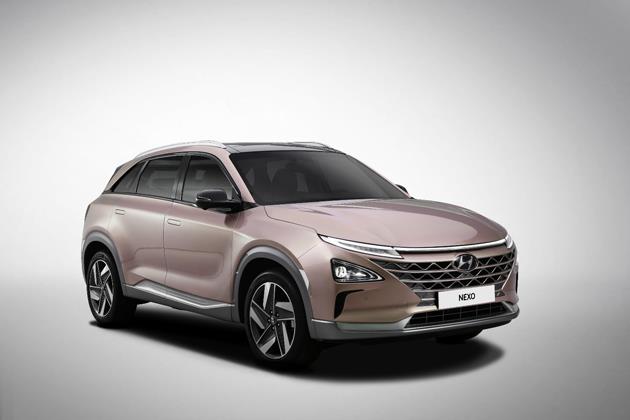 现代汽车在氢燃料电池领域处于领先地位,2013年现代汽车集团的燃料电池车正式量产,且目前在全球18个国家进行销售。作为负责大众汽车集团氢燃料电池技术发展的主要担当, 2016年发布h-tron quattro氢燃料电池概念车并发布了2020年FCEV的上市计划。
"本协议的签订,再次体现现代汽车对实现可持续发展未来和更好生活承诺的践行,同时这也是实现真正零排放世界的最快方式,"现代汽车集团副会长郑义宣说,"我们有信心,现代汽车集团与奥迪的合作关系将成功展现FCEV对全球社会的愿景和好处。"
并且此次结盟也将会对FCEV市场格局产生深远影响。目前在FCEV领域最积极的企业当属现代,丰田和本田等。其中丰田与宝马结成同盟开发FCEV平台,目标2020年达成商业化。本田与通用成立合资法人计划共同生产供FCEV搭载的燃料电池系统。此次通过现代与奥迪的结盟,开启了FCEV领域的"三国鼎立时代"。
现代汽车集团和奥迪对下一步探索合作达成一致。合作下一步的目的是引领氢燃料电池技术行业标准以及加快FCEV发展并刺激相关技术的创新,向消费者提供更多先进交通工具的选择。
-----------------------------------------------------------------------------
以下是英文新闻链接
https://insideevs.com/hyundai-audi-fuel-cell-technology/



Hyundai Motor Company and Audi announced an extensive partnership in fuel cell technology between the brands and the groups (Hyundai Motor Group, including Kia and Audi's parent Volkswagen Group)
The partnership is seen as a way to accelerate the development of hydrogen fuel cell cars that heavily lags behind the all-electric type, which are now sold in the millions around the world.
The first point of the agreement is patent cross-licensing that covers existing patents as well as those filed over the years to come.
The second point is to seek new business opportunities in the FCEV component industry – the components could be shared between the groups to reduce costs.
Audi (responsible for the development of fuel cell technology within the Volkswagen Group) intends to introduce a full-size SUV with hydrogen fuel cells (but only a small series run) at the beginning of the next decade. Still not a volume product though – even several years from now. Hyundai, on the other hand, is supplying only hundreds of FCEVs annually with hopes for a 1,000 in 2019.
Despite the fact that hydrogen fuel cell cars are struggling to take off, we should note that their performance has improved over time, as we can see in the example of the Hyundai NEXO FCEV.
"The partnership between Hyundai Motor Group and Audi will leverage collective R&D capabilities in fuel cell technology to elevate their presence in the FCEV market. Therefore, the agreement also includes mutual access to fuel cell components. As a first step, Hyundai Motor Group will grant its counterpart the access to parts that are based on Hyundai's know-how accumulated from the development of ix35 Fuel Cell as well as NEXO.
Audi – responsible for the development of fuel cell technology within the Volkswagen Group – will also be able to take full advantage of Hyundai's FCEV parts supply chain. Hyundai Motor Company, the world's first mass-producer of fuel cell vehicles, has been offering SUV-Class FCEVs since 2013, and currently sells them in 18 countries around the world."
"Partnership beyond patent sharing
Hyundai Motor Group and Audi have also agreed to explore opportunities for a next step in their collaboration. This next step will aim to lead industry standards in fuel cell technology as well as accelerate FCEV development and spur innovation in this technology, providing more advanced mobility options to customers.
Alliance opens new doors for the Group's fuel cell components business
Hyundai Motor Group also plans to strengthen its competitiveness in the fuel cell components industry, engaging in new business opportunities created by the new partnership. Hyundai Mobis (Mobis), the leading FCEV's components manufacturer of the Group, is expected to continuously expand its role for developing and supplying proprietary core components for Hyundai and Kia FCEVs.
In 2017, Mobis became the first company in the world to establish an integrated production system for core components of FCEVs. The company's plant in Chungju, South Korea, currently has the production capacity of 3,000 powertrain fuel cell complete (PFC) modules per year. PFC modules are comprised of fuel stacks, drive motors, power electronic components and hydrogen fuel supply units. Mobis will raise the plant's capacity to tens of thousands of PFC modules down the road, depending on market demand.
Long ranges and short refueling times make hydrogen an attractive future source of energy for electric mobility. This is particularly true for larger automobiles, where the weight advantages of the fuel cell vehicle inherent to its design are particularly pronounced. Key aspects for its future market success include the regenerative production of hydrogen and the establishment of a sufficient infrastructure.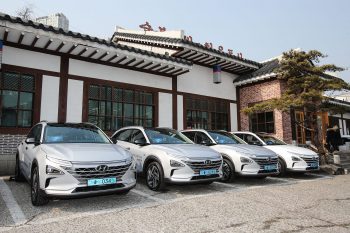 Hyundai NEXO hydrogen fuel cell cars
Hyundai Motor Group, taking the lead in FCEV deployment, is striving to develop FCEVs that exceed the expectations of traditionally-powered vehicles, in terms of safety, reliability, range and specification. The Group is further strengthening its global leadership with an all-new hydrogen-powered SUV, NEXO, with enhanced range and fuel efficiency. NEXO comes with motor power of 120kW*, 20% better than its predecessor Tucson Fuel Cell (also known as ix35 Fuel Cell). NEXO is built on a new dedicated fuel cell platform, which gives it greater power and better driving dynamics than earlier generation FCEVs.
* Based on certifications in US / Europe"
Euisun Chung, Vice Chairman at Hyundai Motor Company said:
"This agreement is another example of Hyundai's strong commitment to creating a more sustainable future whilst enhancing consumers' lives with hydrogen-powered vehicles, the fastest way to a truly zero-emission world. We are confident that the Hyundai Motor Group-Audi partnership will successfully demonstrate the vision and benefits of FCEVs to the global society."
Peter Mertens, Board Member for Technical Development at AUDI AG said:
"The fuel cell is the most systematic form of electric driving and thus a potent asset in our technology portfolio for the emission-free premium mobility of the future. On our FCEV roadmap, we are joining forces with strong partners such as Hyundai. For the breakthrough of this sustainable technology, cooperation is the smart way to leading innovations with attractive cost structures."